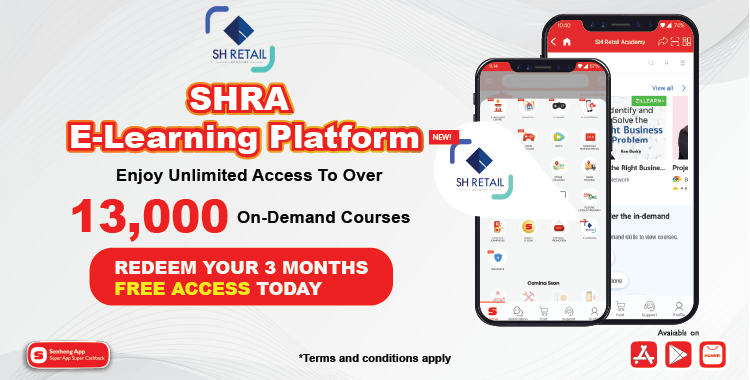 31 Oct

SHRA E-LEARNING PLATFORM

SH Retail Academy E-Learning Platform is now launched in Senheng App!

Claim your 3 months FREE access to SH Retail (SHRA) E-Learning Platform today!

In your free access period, experience:
Unlimited access to 13,000+ top courses selected from ZilLearn + – anytime, anywhere.
Identify Skills Gaps with ZilLearn Skills powered by AI-driven platform that live tracks 57,000+ courses, 3.4 million global job postings and 17,000+ skills tags to help you stay agile in your career. (Desktop site only)
For corporate users, you can get a complimentary modern 'Training Need Analysis' training by clicking the link below:
<https://forms.gle/AFfbt856t6YbMZHNA>
Campaign period: 28 October 2022 – 28 April 2023
PlusOne members can claim the 3 months free access to SH Retail Academy E-Learning Platform in Senheng App by login to Senheng App and click on the 'E-Learning' icon within 28 October 2022 to 28 April 2023.